The Drive Now
DECIDE LATER Process
Drive now, decide later. DriveItAway is revolutionizing the way you drive. Whether you're looking to rent, buy, or simply test out a vehicle or EV, we put you in the driver's seat.
We provide the roadmap—you choose the destination.
From start to finish easiest process to get a car. Sami was patient for all of my questions and concerns. He worked with me from my initial interaction in the app up until getting my brand new Nissan Murano. I picked up my car at the dealership was probably there for 5 minutes. Adam had
…
the car ready and waiting. I usually don't do reviews unless my experience was exceptional and this experience truly was exceptional!
Kimberly Snowden
Exceptional service!!!! Superior care!!! This company is truly AMAZING and they care about their customers. Mencia and Amanuel always take excellent care of my business needs, and they both pay close attention to detail! I have continued to do business with DriveItAway for a longer period than I originally expected to because of the hard
…
work and dedication that Mencia and Amanuel have shown towards my renting needs. They make it super-easy to make payments on the app too!! I will continue to do business here because no other rental company has been able to consistently offer the product and service that I need to do my personal and Lyft business.
ShaResa Curtis
Very professional will work hard to help you. The rent to own program makes it easy for people with bad credit to own a car.
Olivia Hunt
I have nothing but great things to say about Drive it Away! They helped me get the car I wanted. Amanuel has been a pleasure to work with. He is always professional and his customer service is wonderful. I would recommend anyone who needs a car to rent to check out Drive it Away. I
…
have been renting from them for some time now and I have no complaints. I'm so pleased with my experience with them. Thank you Drive it Away!
Kenya S Byrd
I am having a great experience with the program🙏🏽
Nahi47
I give them a righteous 5 stars! The vehicle I got was brand new and I made sure to keep it that way. The rental company affiliated with DriveItAway was very courteous and their service team is top notch. I have used them before on several occasions and wasn't disappointed on using their services this
…
time around. Lastly the livechat feature is very responsive and the in app customer service team is also exceptional.
Abraham Diaz
I've been with drive it away for a little over 6 months and they were very helpful with a car. I rented first for 6 months then they got me into a rent to own. I had some issues going in but they still helped me any way possible so I could keep the car.
…
Now I am about to own my vehicle in a yr. So I recommend trying them out.
Rasheeda Hendree-Padgett
I've been renting cars with Uber's rental program and Lyft's as well for the last 4 years. I've also rented directly through Avis, Enterprise, and Hertz through the same time frame and nothing to show for it until I came across DriveItAway's app. Since the second I made an account on their app the staff
…
has been very helpful in answering all my questions fast and making my experience memorable. Finally a company that I can select a newer car and all my payments renting will be towards my car.
Andres DLC
The app was very user friendly and had all the information I needed to make sure business went smoothly. 🙂 The customer service team was also very helpful with getting me situated with my car and making sure all my questions were answered. I would def recommend this to my friends or even a stranger!
Qudsiya Fatima
Amazing experience, really user friendly and had no problems. Better than other apps I used and has great customer service.
Abdullah Basith
I did not want to make the financial commitment of buying or leasing a vehicle right now, because I'm not sure what my schedule will be in the future. At the same time, I thought it would be best to have an EV instead of a gasoline vehicle due to fuel prices being as high
…
as they are. I wanted a "hedge" just in case my commute becomes more regular, and if I end up needing to buy a vehicle, I'd rather it be an EV. When I discovered the DriveItAway subscription to ownership program for the Bolt EUV, I was instantly sold, it fits my needs today and the program is flexible enough to accommodate me if my needs end up changing down the road.
Saleem Shaik
Incredibly easy process from start to finish.  My representative Amanuel answered all of my questions and concerns promptly.  And that certainly didn't stop once I made my deposit and rented a vehicle.  I was able to get transportation to the dealership from DriveItAway.  Even to this day my account rep Amanuel will check in periodically
…
to see how I'm doing with the car. Switching cars is easy as well as transportation from one dealer to another.  DriveItAway takes care of their renters even at 9:00 at night on the side of the road. To those that call them scammers I say this: Do you honestly expect to rent a car and fall behind on payments and they let you keep the car. Get it together, if you can't afford to pay for a car, you shouldn't be driving rideshare. If you have a problem, reach out to them and get it fixed. I never had an issue with reaching someone even on a weekend.  If you ignore a problem it's not going to go away.
Mark Schiffino
Joey was a major help he walked me threw everything and even when I had some grey areas to me be he explained it and put me at ease thanks Joey!
beastie_the_beast
Great program and even better customer support.
Nathan_e
Excellent program!! Was one of the first to complete the program out here in Los Angeles. They are very helpful and work with you every step of the way! Highly recommend it to anyone looking for a rent to own program! They have great customer service and are flexible with you. Great for people like
…
myself that are building back credit as well.
Roman Gonzalez
Amanuel has the best customer service I've experienced & encountered during car renting/buying he's beyond helpful and won't stop until you are on the road earning money! The app is super convenient !! I've been with them for 2 months looking to join their rent to own program! Hands down better than the other competing
…
rental car apps!
Kylie12daysdaykairi
Great customer service and great prices for vehicles and very easy to use app. You guys are amazing. Thank you so much.
Stephan Sherard
The DriveItAway program had my back when nobody else did…
Sheena Brown
Joey was very helpful. He explained everything and walked me through the whole thing. It was easy and fast – I love it.
Joy Overton
Where do I even begin? I had purchased a fairly new car in 2019. Had less than 10k miles on it and it was a 2019 vehicle. In late 2020, only about a year and a half old and around 25k miles, the transmission was gone. The dealership said I had to get a brand
…
new transmission installed. After that was done, in late November 2021 at 48k miles guess what? The transmission went out – again! Had to get yet ANOTHER transmission. Fast forward to June 2022, engine failure! I was DONE! The dealership offered to buy back the car or have me trade it in. I sold it in July and thankfully enough I was given enough to pay off the loan and had a little pocket change after the fact. But the bigger issue is that I was now carless! I began my car search immediately and just googled things like "cheap pre owned car", "lease to own car", "leasing a vehicle" etc and I saw something called a car subscription service. Whaaaat??? I began to click some links and Drive it Away popped up. It said that I could lease/rent to own a car and after a year or so, I could buy the car if I wanted to. It also said that part of my rental payments would go towards the down payment of the car. I'm like nawwww, no way! Sounds too good to be true. It was NOT! I checked the website and downloaded the app. I was really excited! I reached out to the company but guess what, the service was NOT available in my area. Crushed. Sad. Frustrated. But all hope was not lost because Sami from the dealership called me and asked me a few questions – what I was interested in, the timeframe, a few financial questions and then he asked "if I could talk to my team to see about doing business in Virginia, would you allow me time to do that?" I said "sure let's do it!" It took about a month to work out all the logistics but I was kept informed every step of the way. One of their specialties is Electric Vehicles and he even got me into the EV I now love and adore – an electric blue 2021 Chevrolet Bolt EV premier! With very low miles might I add! The car was in pristine condition and came with all the bells and whistles!! I make weekly payments through the app (oh, the payments even include the insurance for the vehicle, how convenient is that!?) and I'm done! That simple! There was no impact to my credit score, the down payment was very affordable AND I can track my progress to ownership – all within the easy to use mobile app! Drive it Away really works!!! If you're looking to save money overall, save gas money, and save the planet by getting an affordable, newer model electric vehicle?!? Drive it Away is the only way to go! Reach out to them today and tell them that Tiffany and Evie (the name of my EV, get it?) from Virginia sent ya! 🚗 🔌 ⚡️
Tiffany Alston
The Driveitaway team has been "Phenomenal" with its spontaneous response to all my issues and situations that has happened with me being a customer. I really appreciate all of your team work!👍👍👍
Ernest Wilkerson
The concept is awesome. I would love to utilize it but you guys aren't in Las Vegas, NV.
Eric Mclaughlin
I couldn't afford to put down payment but needed a car. Found out this service was available through the dealership now I am building down payment and in 2 more months I will own the car.
Betty Stones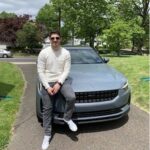 My education was expensive, and I have a lot of student debt, so while I need a car right now to get to work, the last thing I need is more debt to buy a car, especially today with the current record-high prices, at the same time, I wanted to go green as zero emissions
…
is important to me. DriveItAway was the best alternative with no long-term financial commitment – perfect for me.
Matthew DeSantis
Great Customer Service. Really care about the customers and putting them into quality cars.
Amanda Josaphat
I absolutely love this app. The support team representative, Amanuel, handled all of my billing inquiries about the app with great professionalism and customer service!! The app is soooo easy to use and convenient. Try it out👏👏👏
Tara Smith
This drive it away program is by far one of the most successful programs I've ever done in obtaining a car even from the 1st day yesterday that I took the car home everything was explained thorough to me I knew what to expect in terms of how much I would have to pay every
…
week and it went pretty fast too the customer service people are great they're helpful and they're knowledgeable and as of 2 days ago I have converted into regular financing. Woohoo…
Joseph Alvarez
I am so happy for the opportunity to work with Emanuel at DriveItAway; he is certainly a breadth of fresh air…I am quite elated to give him and his staff a "5-Star", as he and staff are professional, courteous, patient, and understanding… Great team to work with…Keep up the great work!!!
Lo Robinson
This program finally got me out of being stuck spending money on rental cars and having the money go nowhere. If you don't mind working and you need a car this is the program for you. I have been an uber driver for 4 years and have spent so much money on rentals just to
…
see it disappear. Now i can actually own a car with no pressure. Thank you drive it away for getting me out of that cycle.
roadside guy
In the News
Stay on top of all the news at DriveItAway.
Come Join Us!
Check where we will be next below!
CES® is the most influential tech event in the world — the proving ground for breakthrough technologies and global innovators. This is where the world's biggest brands do business and meet new partners, and the sharpest innovators hit the stage.
NADA Show offers a full program of innovative products, emerging trends and networking opportunities for all areas of your dealership.
There are no upcoming events scheduled at this time. Please check back soon.
What Do You Get With
DRIVEITAWAY?
Welcome to the new way to buy a car. Start with a rental and you're ready to go. Drive the car for as long—or as little—as you like before deciding if you'll buy. No down payment, no credit, and no commitment required upfront.
Insurance, full maintenance
& roadside assistance included.
All usage fees can contribute to a down payment if you choose to buy the car
Drive now, decide later
whether you want to buy.
Cancel anytime or convert to ownership when it's right for you!